Shadbolt are accredited by various third-party bodies providing independent verification of our competence and professional approach to everything that we do.
ISO 9001
Shadbolt operate an established Quality Assurance System throughout the company, under the supervision of a Quality Assurance Manager and Department. The system is designed, operates, and is registered to ISO 9001:2008.
SHADBOLT ISO 9001 CERTIFICATION
BM TRADA Q MARK SCHEME
There is a legal requirement for manufacturers of fire doors to provide proof of the ability of their products to resist passage of fire through the provision of test evidence.
At Shadbolt, we take our legal responsibility extremely seriously. As members of the BM TRADA Q-Mark fire door manufacturer scheme, we ensure that every fire door we supply is tested and certified by the World's leading provider of third party certification, providing peace of mind of our products performance.
SHADBOLT Q MARK MEMBERSHIP CERTIFICATE
FSC® CHAIN OF CUSTODY
The Forest Stewardship Council (FSC®) is an international organisation dedicated to promoting responsible management of the world's forests.
By being FSC® Chain of Custody certified, you can be sure that all Shadbolt FSC® doors have been manufactured using timbers from responsibly and sustainably managed forests.
SHADBOLT FSC® CHAIN OF CUSTODY CERTIFICATE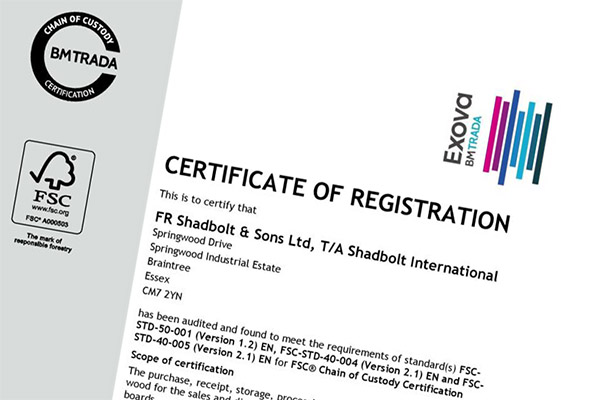 FORS
The Fleet Operator Recognition Scheme (FORS) is a voluntary accreditation scheme operated by Transport for London that promotes best practice for commercial vehicle operators. Encompassing all aspects of safety, efficiency and environmental protection, the scheme encourages and trains members to measure, monitor and improve performance.
Shadbolt's fleet of vehicles has successfully been FORS Gold accredited, the highest level of  achievement in the scheme, attesting to our approach to vehicle and driver management.
SHADBOLT FORS GOLD CERTIFICATION
CLOCS CHAMPION
At Shadbolt, our fleet of delivery vehicles operate to the highest standards of safety, quality and risk reduction.
 Consistently compliant to the CLOCS Standard for many years, Shadbolt have been awarded CLOCS Champion status to attest to our commitment to investing in the safe operation of our delivery vehicles.
SHADBOLT CLOCS CHAMPION CERTIFICATION
NBS PLUS
Shadbolt products are now listed within NBS Plus, part of the NBS industry standard specification software used by architects and other construction industry professionals.
NBS specification clauses for Shadbolt products have been compiled in collaboration with RIBA Enterprises. These clauses are intended to enable the specifier to clearly identify which Shadbolt product solution is the most suitable for a given application.
SHADBOLT NBS PLUS CLAUSES